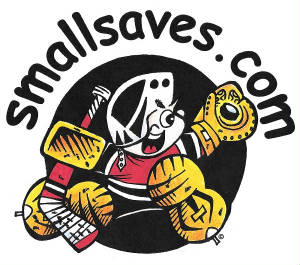 Cartoon for the week of 4/8/2021
.
.

Check out Small Saves' pages! From the past cartoon antics of our little puck stopper, to exclusive hockey/goalie t-shirt designs, there's something for everyone in the family to enjoy!
.
.
.

Small Saves now appears in the all-new magazine, VINTAGE TENDY, dedicated to past-era goaltenders! Check them out at:
.


Step-by-Step Instructional Video: How the Small Saves Comic Strip is Created! Ever wonder how Small Saves is created for print each week? This video takes you with the artist as he brings everyone's favorite little cartoon goalie from concept idea, to finished, ready-for-print art. Please like and subscribe!
Join the fun! Click on the email link to send us a note saying that you'd like to be added to Small Saves' weekly email newsletter!
.
.


Small Saves is a Registered Trademark.
All rights reserved.
Copyright 2021.