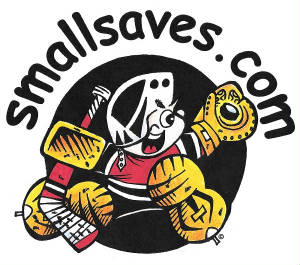 Welcome to the official Small Saves website! Enjoy his cartoon of the week, hockey and goalie-themed shirts, Facebook group, YouTube videos, and more!



Click on the links below to be taken to your favorite pages!
.
.

Small Saves Cartoon for 10/14/2021
;
;
This week, I'd like to thank Debbie and the Heritage Christian Online School home school students for inviting me via Zoom to teach an online class on how to draw Small Saves! It was a lot of fun and we even included the kitty from my new comic strip, "Here's Trouble." It was a pleasure to meet everyone. Thank you so much for sharing the wonderful drawings the students did!
Join the Small Saves weekly newsletter! Just email us and say, "Add me to the list!"
.
.


Small Saves is a Registered Trademark.
All rights reserved.
Copyright 2021.