Welcome to the official Small Saves website!
Thank you for visiting Small Saves' website! Here you can enjoy his latest cartoons and have a one-click access to all the Small Saves books, hockey shirts, and great merchandise! Scroll down below to visit your favorite section!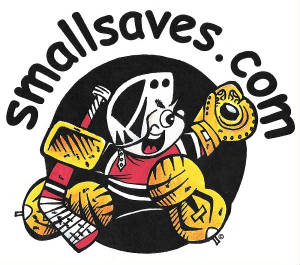 To contact Small Saves, email him at:
.
.
.

Cartoon for the week of 4-20-2019

Enjoy Small Saves in the pages of USA Hockey Magazine!
Enjoy the following Small Saves links...
;
;


Small Saves now has his very own weekly Newszine! Each week, the latest Small Saves cartoon, along with updates, are now sent out to members of our ever-growing mailing list! To be added, just email us at~
'
'
'

Small Saves is a Registered Trademark.
All rights reserved.
Copyright 2019.